CFI Increases Truck Driver Pay, Announces Fleet Purchase Plans
CFI, an operating company of TFI International Inc. (NYSE and TSX: TFII), a North American leader in the transportation and logistics industry, recently announced our 2022 plans for fleet equipment upgrades and driver pay increases.
Our new driver compensation program for 2022 will align driver pay for consistency across trucking operations. Drivers for CFI Truckload and CFI Temp-Control will receive an increase of 2 cents per mile. Drivers will also be eligible for incentive bonuses tied to safety, productivity, and years of service.
Fleet equipment upgrades will bring the average age of CFI's tractor fleet to less than two years. Purchases will include 770 Kenworth T-680 Next Gen tractors, equipped with safety technologies and driver conveniences most in demand by today's professional truck drivers. The company also is purchasing 250 new 53-foot trailers, including 100 dry-van general freight trailers and 150 refrigerated trailers supporting the growth of CFI Temp-Control.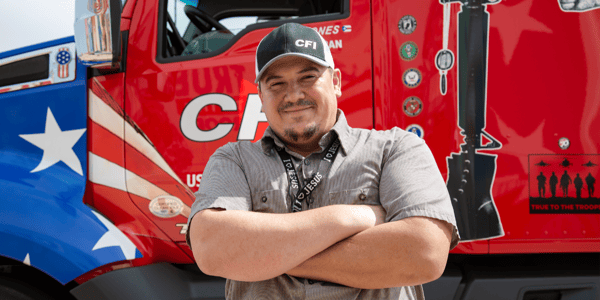 A CFI Professional Driver poses in front of a custom-wrapped Kenworth truck.
As part of our safety culture, we recognize our professional drivers as the "captain of their ship," we trust them to pick up and deliver on time and safely, as promised to our customers. These driver pay increases align pay across our services with an attractive compensation package that reflects the quality and professionalism of our drivers. In addition, CFI professional drivers also receive a competitive benefits plan, including health care options, a retirement plan with a company match, and other extras.
Fleet Owner's "Five good things that happened in trucking this week" highlighted the increase alongside many other transportation industry publications.
"Our drivers persevered through another challenging year, providing consistent, superior service," said Greg Orr, president of CFI. "Our fleet investments and compensation increases reflect their excellent performance and our goal of supporting them as one of the industry's safest carriers and the preferred destination for professional drivers."
Read more coverage here:
Interested in a career as a professional driver at CFI? Learn about route types, equipment and opportunities for experienced drivers and student drivers. You can also sign up for our Stay In Touch newsletter or simply call our recruiting department today to get started!