CFI Laredo Achieves New Safety Record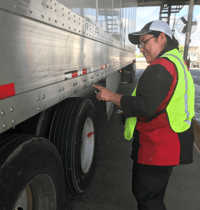 February 4, 2022 - CFI Laredo has gone more than four years without an accident or an injury. This is the longest safety streak in the company's 75-year history.
Enrique Mendoza, CFI Laredo Shop Manager, is credited for creating a culture of safety that also improved employee turnover by 100%.
"Our people here now feel safe and work with a lot more confidence," Mendoza says. "We have an open management system where they can share comments and know they'll be listened to. And they also know they'll have whatever tools or equipment they need to work safely and efficiently. It took some time to get our new safety culture installed and make it stick. But it has been an extremely positive improvement for us across the board once it did so."
Safety is and will remain CFI's cornerstone. We remain vigilant on and off the road, always looking for opportunities to better improve our safety practices, update our equipment, and provide consistent training for our entire organization. We lead with safety-driven decision making in all that we do.
Read more about Mendoza's story on Heavy Duty Trucking's website here.