CFI Delivers Wreaths for Wreaths Across America
CFI was again recognized as a Wreaths Across America Honor Fleet member in 2022 and was one of several trucking firms chosen to make deliveries to Arlington, the nation's most revered memorial ground for our nation's fallen soldiers. This year, Professional Driver Don W., who has driven for CFI for 33 years and has over 3.6 million safe driving miles, will make the delivery for CFI.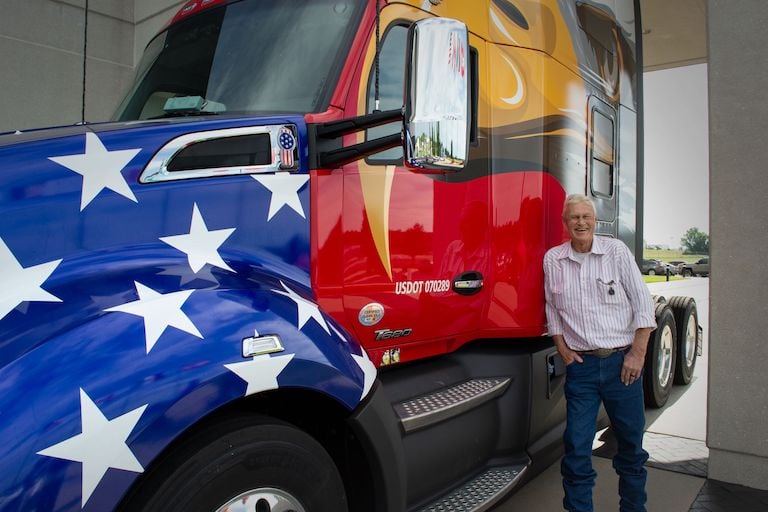 Professional Driver Don W. and his special wrapped True to the Troops truck, which he will use to make a wreath delivery to Arlington National Cemetery on December 17th, National Wreaths Across America Day.
For his delivery to Arlington, Don is piloting one of seven unique CFI True to the Troops tractor-trailers. "Our professional drivers making these deliveries take this mission personally as they reflect on their service, as well as their important role in transporting this unique measure of America's respect for our military," explained Greg Orr, president of CFI.
In addition to the delivery at Arlington National Cemetery, CFI Professional Drivers, all of whom are Military Veterans, are delivering wreaths to sites in Kansas, Missouri, Texas, and Virginia for National Wreaths Across America Day this December 17th.
You can learn more about CFI's True to the Troops program here and about our participation in National Wreaths Across America Day from AJOT, DC Velocity, and Fleet Owner's Five Good Things.