CFI Professional Driver and Veteran Don Welch Interviews with Wreaths Radio
At the Mid-America Trucking Show last week, CFI Professional Driver and Army Veteran Don Welch shared his story with Wreaths Radio. You can listen to the interview here.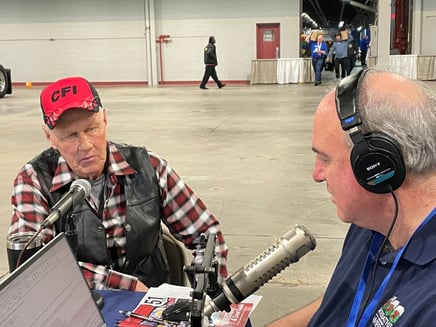 Professional Driver Don Welch discusses his trucking career, his service, and his family's legacy with Jeff Pierce, Director of Broadcast and Media Partnerships with Wreaths Across America Radio.
Learn more about CFI Professional Driver Don Welch and his Eagle Wrapped Truck below.
Don has driven a total of 3.7 million miles during his 34 year career with CFI. He is a United States Army Veteran, and he has three sons and one grandson that have also served in the United States Military.
Don exemplifies our Core Values of safety, honesty, grit, and communication. His Eagle Wrapped Truck represents CFI's True to the Troops long-standing program which provides opportunities for Military Veterans and supports those who are actively serving. Don himself has delivered wreaths to honor Veterans for Wreaths Across America.
Learn more about how CFI is True to the Troops here. Additionally, you can listen live to Wreaths Radio here.