True to the Troops: how trucking can support veterans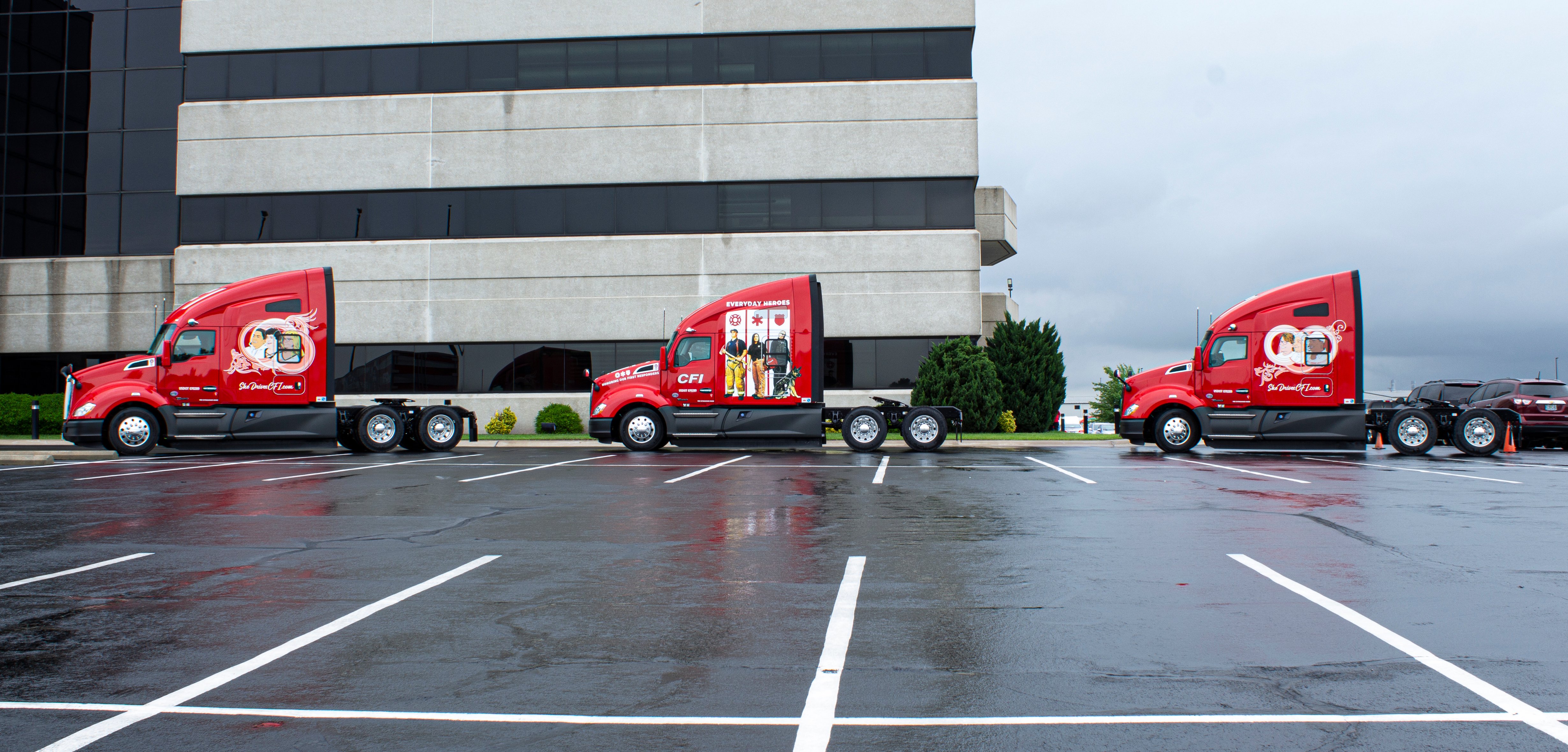 Transportation companies can do more than move freight to support the economy. To support military veterans, companies like CFI can also stand behind service members during their transition to a civilian career. The qualities ingrained through military service are the same qualities valued in the transportation industry including: integrity, commitment, a strong work ethic and a team mentality.
CFI is dedicated to supporting veterans by providing an environment that rewards excellence and offers opportunities for growth. Approximately 14% of CFI's 2,000-person driver workforce are military veterans.
Veterans are eligible for
Priority Hiring Status- CFI is a US ARMY PaYS (Partnership for Youth Success) Partner - new Army recruits may sign up for a job interview with CFI that is waiting for them when they retire from service
Military Skills Test Waiver Friendly- Service members that are approved by their Commander may bypass CDL school and testing. Eligible veterans will then drive under the guidance of a professional driver finisher to conclude their training and ensure they are road ready
Paid Tuition and Tuition Assistance- Veteran's interested in obtaining their CDL may attend CDL school and finish their OTR training with CFI, expenses paid. In exchange, our students drive with us for one year
Military Apprenticeship Program (MAP)- Service members may collect their BAH (Basic Allowance for Housing) during the 1st year of driving for CFI
Transition Assistance – We work with Transition Service Managers to assist service members and their families transition from service
Driver Certification Program – Based on their MOS (Military Occupational Specialty) increased pay per mile is available if they have drove eligible vehicles during their service
In addition to our programs, veteran's can access other resources including our Veteran's Advocate. Trucking companies can "walk the talk" by donating to military affiliated charities and events. Since 2015, CFI is the national transportation sponsor of Holy Joe's Café. In addition, I am proud the CFI family has also supported Wreaths Across America, The Wall the Heals, Honor Flights, military parades and military funerals.
Honorary True to the Troops fleet
To further demonstrate our solidarity, we have also added a selection of honorary wrapped tractor-trailers to our over the road dry van fleet:
2015: the foundation of our honorary True to the Troops fleet began with two tractor trailers honoring veterans and True to the Troops day
2018: four additional wrapped tractors with large-format graphics honoring military service were added to the fleet
2019: two new tractor trailers were added to the fleet honoring Silver Star and Purple Heart recipients
The special commemorative trucks travel around the U.S. as working trucks recognizing the professional excellence and service of CFI's military veterans, while also being an integral part of our recruiting efforts. These trucks are top of the list to attend military events:
Meet the newest True to the Troops drivers
Angel Quinones- True to the Troops Wrapped Tractor Recipient
Angel is a 3rd generation veteran, who joined the Navy in 2000. While stationed at Ft. Riley, Angel completed two tours in Iraq and one tour in Korea. Angel concluded his service of over 15 years as an E5 Sargent at Ft. Carson. Angel says he joined CFI in 2018 because he was treated with respect and felt like a member of the CFI family from the very first day.
For Angel, "Not everyone can do what soldiers, airmen, sailors, or Marines do every day. Supporting our troops is one thing I take seriously; when I see other wrapped trucks, it is an amazing feeling and I want others to feel the way I do when they see a CFI truck in their honor."
Chuck Corkill- True to the Troops Wrapped Tractor Recipient
Chuck served in the US Army Reserve for 7 years as an 83E topography specialist. Chuck has also been a volunteer fireman, assistant fire chief, and EMT. Chuck has been with CFI since 2017. Chuck has pulled one of the Wreaths Across America loads and says he is "…so honored to be part of such a wonderful organization and to have the opportunity to honor our troops."
Companies can and should do more to support those that fight for our freedom. I am honored to help provide careers for our military veterans.
Marcus Edwards is the Sr. Director of Driver Resources at CFI. Edwards has over 26 years of service in the US Army and 25 years' experience in the transportation industry.