Trucking Executives Report Rejecting Record Amounts of Freight
"This is probably the best market I've seen in 20-plus years of doing this," Greg Orr, president of CFI" shared with Logistics Management Magazine in their recent article "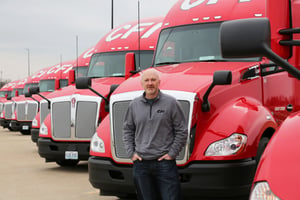 "We continue to see a very, very strong and positive market place," Orr went on to say "There was just a teeny dip (in demand) in August. But we're pretty confident these are levels above the industry norms for this time of year for the past three-to-five years. At this point, there is no major sign of a slowdown any time soon."
Trucking executives report they are rejecting record amounts of freight in this current booming peak freight season. Read the full article by visiting Logistics Management Magazine.
Greg Orr is president of CFI, which operates 2,400 company-owned tractors and 8,000 trailers. CFI, formerly Con-way Truckload, is owned by Montreal-based TFI International, which posted $3.9 billion (U.S.) revenue last year.