True to the Troops: CFI's commitment to Military non-profits
True to the Troops is not just a phrase, it's a commitment. CFI's dedication to the military reaches as far away as airfields in Kuwait, bases in Iraq and level three trauma hospitals in Afghanistan. In addition to offering resources for military veterans transitioning into trucking, support includes monetary donations and in-kind volunteering for events. The trucking industry has a unique opportunity to donate with the gift of transportation and most of all their time. Two longstanding CFI military charity partnerships include Holy Joe's Café and Wreaths Across America.
Since 2015, CFI has been a proud national sponsor of Holy Joe's Café, which supplies donated coffee to U.S. troops in over 70 countries. The company donates between $30,000 and $80,000 a year with in-kind transportation, moving coffee supplies to military bases in the continental U.S., which are then shipped to troops overseas to give them a small taste of home. "A lot of people are just happy to know there's folks out there that care about them, with a cup of coffee. We've been able to help so many people in the military with CFI's help, to bring this coffee to them and touch so many lives," said Tom Jastermsky, founder of Holy Joe's.
The holidays are a special time for all. On the third Saturday in December, you'll find CFI honoring veterans. As part of the True to the Troops program, CFI proudly supports 501c3 non-profit Wreaths Across America each year in the delivery of live balsam veterans' wreaths to cemeteries throughout the United States.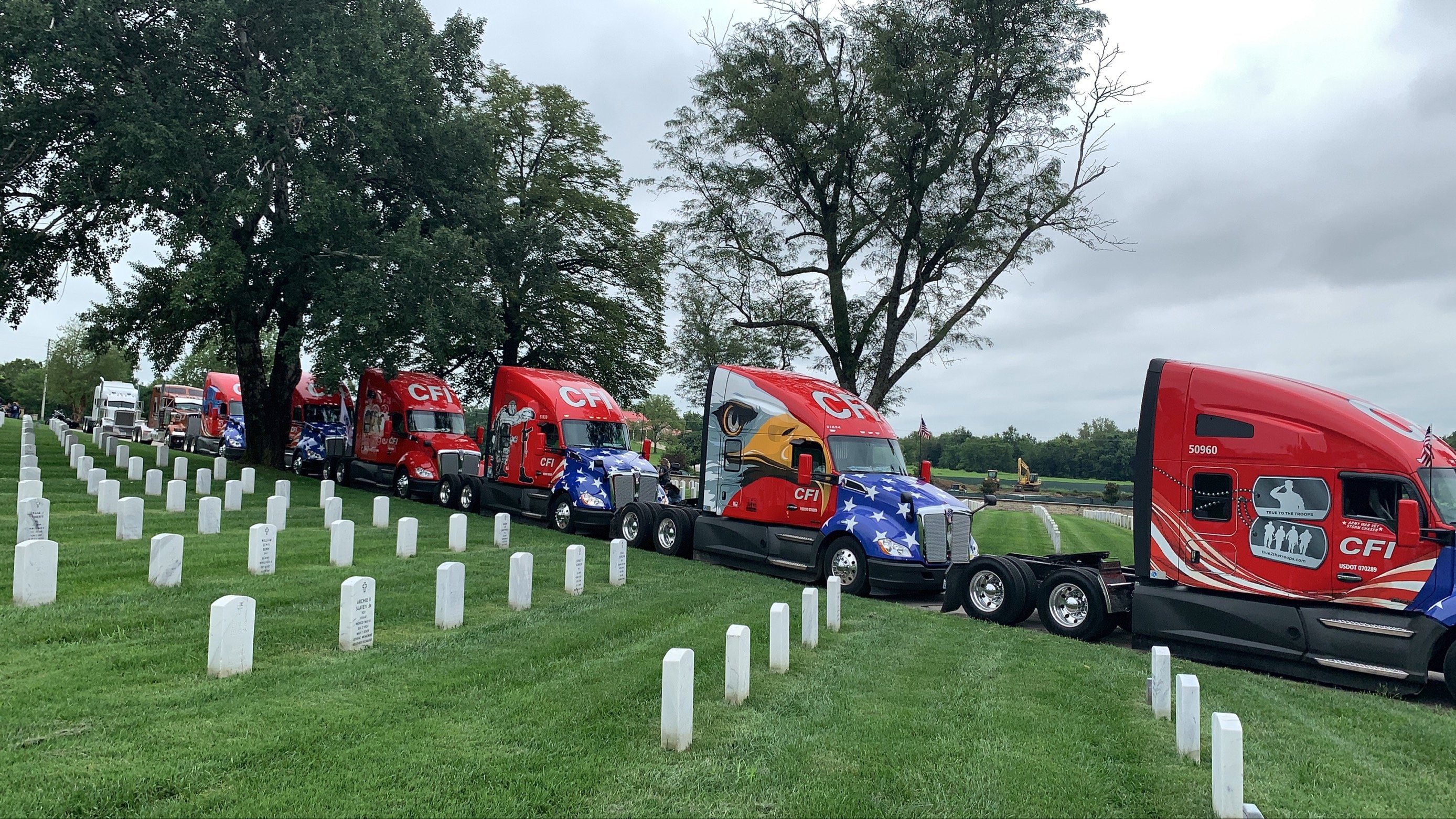 "For veterans and their families, WAA is so much more than a wreath placed in December. They know that because of this program and all who support its mission that their loved one will always be remembered, their service will be honored, and their story will be told. Since we were founded in 2007 as a national nonprofit, WAA has grown exponentially in both number of participating locations, and veterans' wreaths sponsored. In 2021, we had ceremonies held in every state and US territory! We are able to fulfill this mission because of the support and in-kind donations made by the transportation industry. We want all to know how appreciative we are for the help. We cannot do this without these donated loads, period." Director of Transportation Don Queeney at Wreaths Across America.
Last year Wreaths Across America placed more than two million veterans' wreaths at more than 3,000 locations in the US and beyond, including more than 253,000 wreaths in Arlington National Cemetery in Washington DC. 
True to the Troops is a reflection of CFI's unique community-friendly culture, engaging associates company wide, and more than 6,000 professional drivers to support the military. Approximately 14% of CFI's driver workforce are military veterans, with careers supported by the VA OJT Program and Military Driving Credit.
To learn more about our support for military veterans and career opportunities for transitioning military veterans at CFI, select one of the options below. 
If you have any questions please give us a call, we look forward to speaking with you.